Kaneohe Bay Kayak and Snorkel Tour to Coconut Island
North America » United States of America » Hawaii » Oahu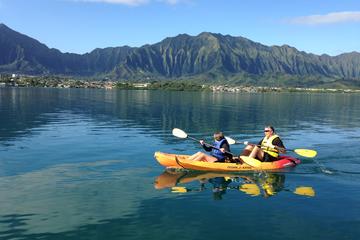 (5.0)
Duration: 6 hours
Departs: Oahu, Hawaii
Price from USD 120.99
Book Now
Kayak over the protected waters of Kaneohe Bay to Coconut Island, aka 'Gilligan's Island,' and snorkel on Oahu's only barrier reef on this tour from Waikiki. You'll learn about cultural sites, ecosystems and a diversity of marine life including sea turtles, rays and tropical fish. Enjoy snacks, beverages and a barbecue lunch during your 6-hour eco-adventure, which includes professional instruction with two certified guides per group of eight (maximum of 16 participants).
Upon pickup from select Waikiki hotels, you're transferred to He'eia State Park, located on the windward coast of Oahu. At the remote cliffside peninsula of Kaneohe Bay, you're outfitted with a lifejacket, snorkeling gear and a waterproof dry bag for your belongings.
After briefing your small group on the day's activities using a map of the bay, a certified kayak guide provides a comprehensive paddling lesson on the waterfront. Once your guides help you into your kayak and attach it to the escort boat, everyone is towed for the first few minutes into the bay to ensure plenty of time at the snorkeling site.
Paddle to Coconut Island, once a filming location for the TV show
Gilligan's Island and now owned by the Hawaii Institute of Marine Biology, dedicated to research and education.
En route, listen as your guides interpret the natural and cultural history of the island, Kaneohe Bay and its unique reefs, and the different types of marine life you may encounter.
Upon landing in the protected marine reserve, set out on a snorkeling tour in a pristine section of fringe coral reef around the island's edge.
Sea turtles are a common sight, and you'll occasionally spot manta rays and spotted eagle rays.
After snorkeling and refueling with granola bars, juice and bottled water provided on the island, it's time for the return trip across Kaneohe Bay to He'eia State Park. Take advantage of the escort boat if you're tired and prefer to hook up for a ride.
Arriving back on land around midday, make use of the changing rooms and outdoor shower facilities. Then dig into a barbecue picnic lunch served buffet-style from the grill on the waterfront. Enjoy barbecued chicken and pork ribs with corn on the cob, white rice, salad greens and fresh pineapple, washed down with nonalcoholic beverages before the return trip to Waikiki and drop-off at your hotel.
Note: This 6-hour ecotour includes approximately three hours on water and three hours on land.
« All Activities