Honolulu History and Culture Segway Tour
North America » United States of America » Hawaii » Oahu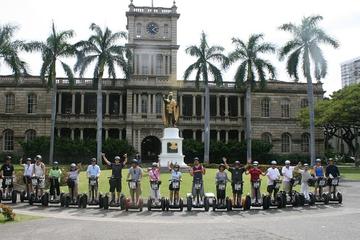 (5.0)
Duration: 4 hours
Departs: Waikiki, Oahu
Price from USD 207.99
Book Now
Experience Honolulu's rich history and culture on a Segway! Driving your own Segway Personal Transporter, you'll glide down the streets of downtown Honolulu and stop at Kahanamoku Beach in Waikiki, Aloha Tower, the State Capitol Building and Iolani Palace. See the best of Honolulu in an exhilarating way that combines the fast pace of a bus tour with the relaxing atmosphere of a walking tour. Your professional guide will stop at the key landmarks, where you can listen to commentary and take pictures.
Discover the best of Honolulu's history and culture on this adrenaline-filled Segway tour. Before you get started, each guest will receive individual training by professional Segway guides so you can effortlessly and safely navigate your Segway Personal Transporter. Riding a Segway is similar to getting on an escalator at a department store - it's slightly wobbly the first time you step onboard, but you can easily learn to navigate the Segway! When your training is complete, you'll start your Segway adventure on Kahanamoku Beach in Waikiki. Zoom past the luxurious yachts in the Ala Wai Yacht Harbor before gliding over the Ala Wai Canal and into Ala Moana Beach Park and Magic Island.

Travel towards downtown Honolulu, and stop at the historic Aloha Tower – a major landmark of Hawaii and a beacon that welcomes ships into Honolulu. Enter downtown through historic Bishop Street and pass by the famous transportation buildings that have been a longstanding feature of downtown Honolulu. Zoom into lively Chinatown and down Hotel Street as you head toward Washington Place, the home to Hawaii's governor, and the State Capitol Building. Glide the grounds of Iolani Palace, the only royal palace in the United States, and learn about Hawaii's history while viewing the ancient banyan trees in the garden outside Iolani Palace.

Continue your adventure by visiting Iolani Barracks, King Kamehameha Statue and the historic Honolulu Courthouse. Pass by the Honolulu City Hall and the historic Kawaiahao Church, also known as Hawaii's Westminster Abbey.

Finish your journey by heading back toward your starting point along the scenic coastal route. The Segway allows you to see so much more than you would on a walking tour, but still enjoy the fresh air and sunshine as you travel, unlike you would on a bus. It's the perfect way to sightsee!

Please note: You must book in groups of two or more on this tour.
« All Activities